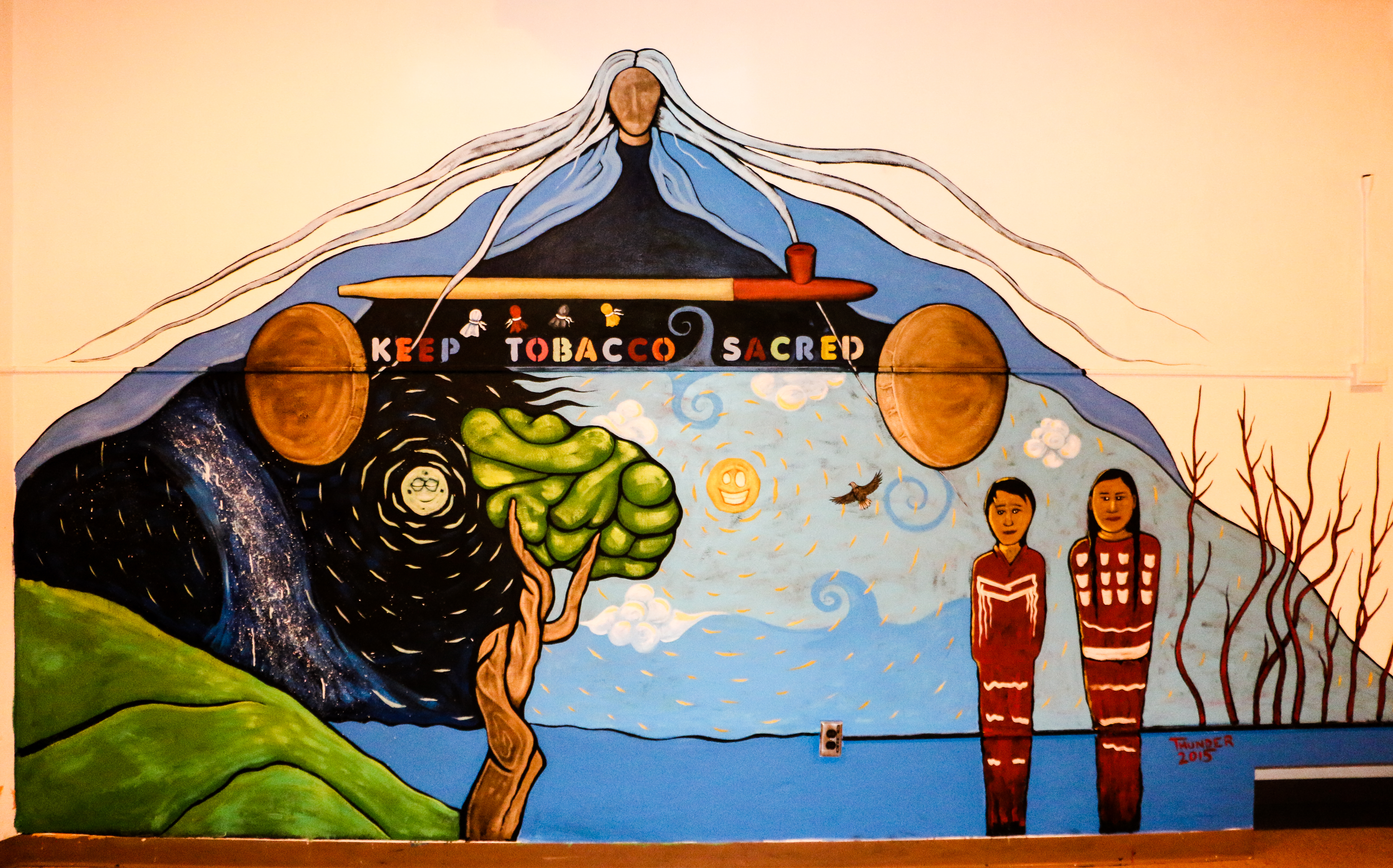 Meet the Artist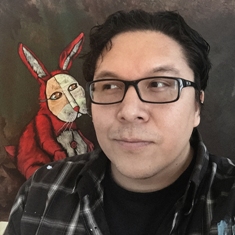 Jonathan Thunder is a painter and digital media artist currently residing in Duluth, Minnesota. He has attended the Institute of American Indian Arts in Santa Fe and received a Bachelor's Degree in Visual Effects and Motion Graphics from the Art Institutes International Minnesota. His work has been featured in many state, regional, and national exhibitions, as well as in local and international publications.
Anishinaabe Cultural Programming

During all of our Monday Night Family Gatherings we offer Anishinaabe Cultural Programming that includes education on sacred tobacco and it's traditional uses.
American Indian Nations have an ancient and complicated relationship with tobacco. Traditionally, tobacco is viewed as a sacred medicine central to tribal culture, practices and ceremonies. For generations, the commercial tobacco industry has corrupted sacred tobacco practices, and has also marketed directly to American Indians by exploiting their images in advertisements.
Today, smoking rates among American Indians in Minnesota are high, 59 percent compared to 14.4 percent among the general population. Second-hand smoke from commercial tobacco is harmful to nonsmokers and contains toxins and poisons that can cause cancer. In fact, in Minnesota, commercial tobacco-related diseases are the top killers among American Indian populations, including: cancer, coronary heart disease, diabetes, stroke, and lower respiratory disease.
Not only is sacred tobacco for spiritual, cultural, and ceremonial use, it also ensures the continuance of the Native way of life. Traditional tobacco is used:
to honor and welcome guests
to communicate with the Creator or Spirit World
as a sacrifice to the Great Spirit
as an offering to those asked to pray or share wisdom
The word Tobacco in the Anishinaabe language is Asemaa and in the Dakota language is Can-sa-sa.
Learn More about Sacred Tobacco
Learn more about Sacred and Commercial Tobacco in a booklet called Walking Toward the Sacred: Our Great Lakes Tobacco Story that was compiled and edited by Isaiah Brokenleg and Elizabeth Tornes. The booklet was a project of the Great Lakes Inter-Tribal Epidemiology Center, a division of Great Lakes Inter-Tribal Council, Inc. For more information about the center, go to www.glitc.org.
Reclaiming Sacred Tobacco, Traditional Tobacco and Promoting Health, The Problem of "Tobacco-Free", and Casinos and Secondhand Smoke are the products of a collaboration between Twin Cities Public Television and ClearWay Minnesota. This documentary depicts Minnesota's American Indian communities traditional practices in an effort to promote healthier lifestyles. Learn more about this project here. Look for our mural in one of the videos!
Kick Butts Day Annual Event
2017 Kick Butts Day event will be held on March 13, 2017 from 5-7PM in the Cafeteria-Lower Level.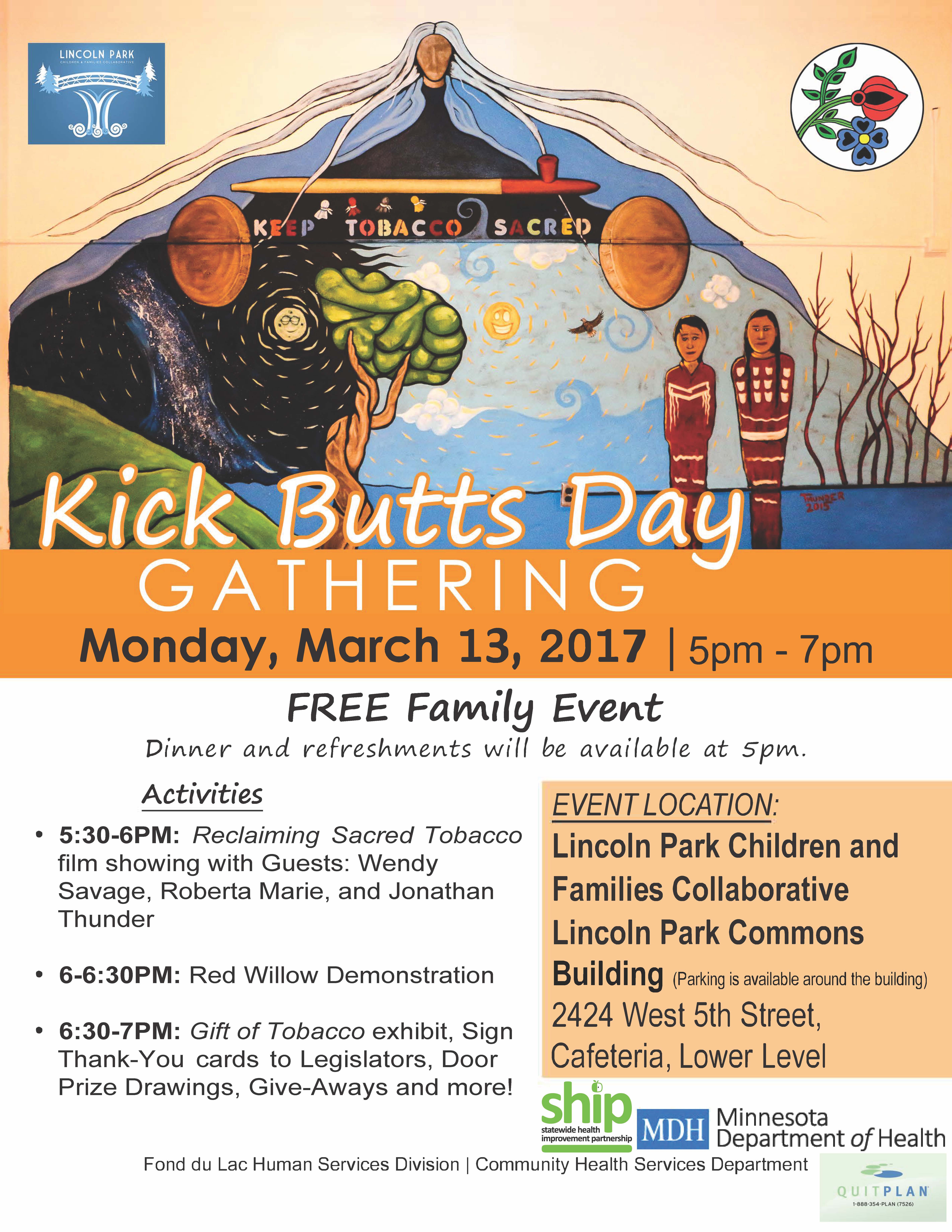 Lincoln Park Children and Families Collaborative Kick Butts Day Gathering to Focus on the Dangers of Commercial Tobacco
A Kick Butts Day gathering will be held in Duluth on Monday, March 14, 2016 from 5:00 – 7:00 PM at the Lincoln Park Children and Families Collaborative (LPCFC), located in the former Lincoln Park Elementary School, now called Lincoln Park Commons.  The gathering is being held in collaboration with the Fond du Lac Human Services Division Community Health Services Department. A wild rice soup dinner and refreshments will be available at 5:00 PM.
"By getting involved in Kick Butts Day, families and youth can raise awareness that commercial tobacco is still a problem, encourage peers to be commercial tobacco-free and reject the tobacco industry's marketing tactics," said Jodi Broadwell, executive director of LPCFC.
Kick Butts Day is a national day of activism that empowers youth to stand up against the tobacco industry, speak up and seize control of their lives.  The U.S. has made great strides in the fight against tobacco, but every day, more than 2800 youth under the age of 18 try smoking for the first time and 700 youth become new regular, daily smokers.  Tobacco is still the leading cause of preventable death in the United States, killing more than 480,000 people every year.
Smoking rates among the American Indian population in Minnesota sit at 59 percent compared to 14.4 percent among the general population. Commercial tobacco-related diseases are the top killers within American Indian communities, including the Lincoln Park neighborhood.
In addition to the wild rice dinner, the Kick Butts Day gathering at the LPCFC will feature discussions about Sacred Tobacco, health resource tables, the crafting of 4 directions bracelets, commercial tobacco-free pledges, the creation of #ikickbutts posters, opportunities for photos in front of the Keep Tobacco Sacred mural, Kinnickinnick Workshop with Dr. Arne Vainio and Jeff Savage, and other activities.
LPCFC was founded in 2011. The Mission of the organization is to strengthen the Lincoln Park Community by connecting families who care about young children. LPCFC offers Anishinaabe Cultural Programming during its Monday Night Family Gatherings, which includes education on sacred tobacco and its traditional uses.
Funding for the LPCFC's commercial tobacco prevention work comes, in part, from the Center for Prevention at Blue Cross and Blue Shield of Minnesota, which delivers on Blue Cross' long-term commitment to improve the health of all Minnesotans by tackling the leading root causes of preventable disease: tobacco use, lack of physical activity and unhealthy eating.