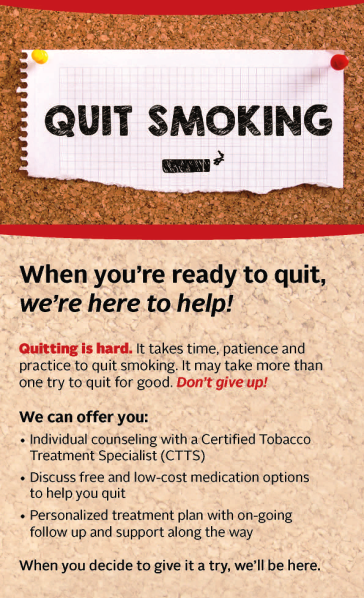 Lincoln Park Children and Families Collaborative's Executive Director is now a Certified Tobacco Treatment Specialist. Jodi has been commercial tobacco-free for 17 years and understands how hard it is to quit. If you are interested in this free service and would like to set up a meeting, call 218-409-7227 or email jodi.lpcfc@gmail.com.
Additional Commercial Tobacco Quit Resources
FDL Human Services Division-Tobacco Cessation
Tobacco Cessation at Min No Aya Win (MNAW) and Center for American Indian Resources (CAIR) is available to anyone who receives services at MNAW or CAIR. Tobacco cessation aides are available for those who are eligible. Call with questions at MNAW: 218-878-2157 and at CAIR: 218-279-4064.
For free help to quit commercial tobacco, contact QUITPLAN Services at 1-888-354-7526 or visit www.quitplan.com.
Essentia Health-Hermantown Clinic
Essentia Health-St. Mary's Medical Center Duluth
Essentia Health-St. Mary's Superior Clinic
Essentia Health-West Duluth Clinic